RPF insights Northern Ireland: education and stability the key to economic recovery
Our Regional Productivity Forum Chairs took part in panel discussions as part of our agenda at our online business conference held in June 2021.
Our Northern Ireland Productivity Forum lead and Professor of Finance at Queen's Management School, John Turner, took part in the panel debate: What does the UK Government need to do to help business succeed?
The lack of a stable government had created uncertainty for businesses in Northern Ireland so their ability to plan had been "totally scuppered," by that and Brexit, John said. So, the first thing Northern Ireland needs is "stability".
He believed education was also a key focus for his region. Northern Ireland has the highest proportion of lower secondary and lowest proportion of tertiary educated within the working population.
This fed through to the workforce – Northern Ireland also has the highest proportion with no basic qualifications, at almost double the UK average.
How best to drive levelling up
We then asked our audience via a poll what the most important policy priorities were needed to drive levelling up? Devolved power to regions and nations was the top answer, followed by improving vocational education.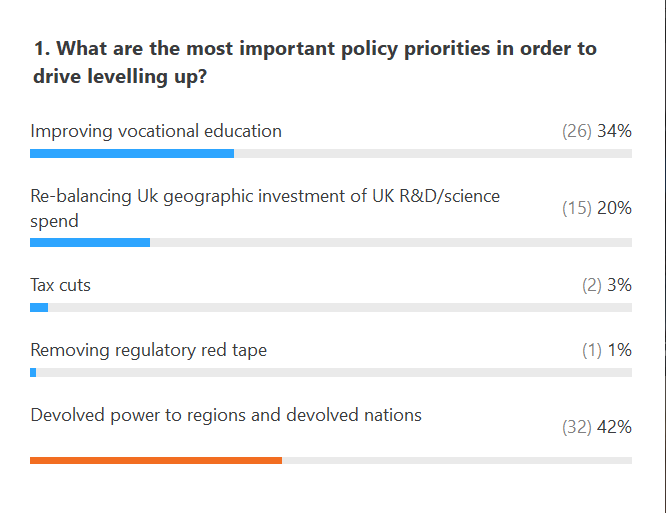 John said devolution allowed businesses to be closer to government which helped them to better influence decision making.
He highlighted Scotland's separate university sector as a good example of this, noting that it meant Scotland had the highest research and development spend in universities of any region of the UK and the best educated workforce at the upper end of any part or region of the UK, which then filtered down to business.
"It worked for them at least in the university sector," he said. "Therefore, it could work for other devolved nations when forming future education policies."
You can watch the full panel discussion here: