RPF insights North West: Devolution and focus on education needed for economic recovery
Our Regional Productivity Forum Chairs took part in panel discussions at our online business conference held in June 2021.
Jennifer Halliday is Finance Director CF Fertilisers UK and Chair of the North West Productivity Forum. She took part in the panel debate: What does the UK Government need to do to help business succeed?
Jennifer argued that education policy was the thing to focus on, particularly in England's North West.
During the two periods of lockdown, schools in the North West were shut longer and the lack of education will have a long-term impact on productivity.
"The education system is broken in the sense that it doesn't deliver the outcomes that we're looking for and so why would we want to continuously improve something that's broken?" she asked.
We then asked our audience in a poll what the most important policy priorities were needed to drive levelling up? Devolved power to regions and nations was the top answer, followed by improving vocational education.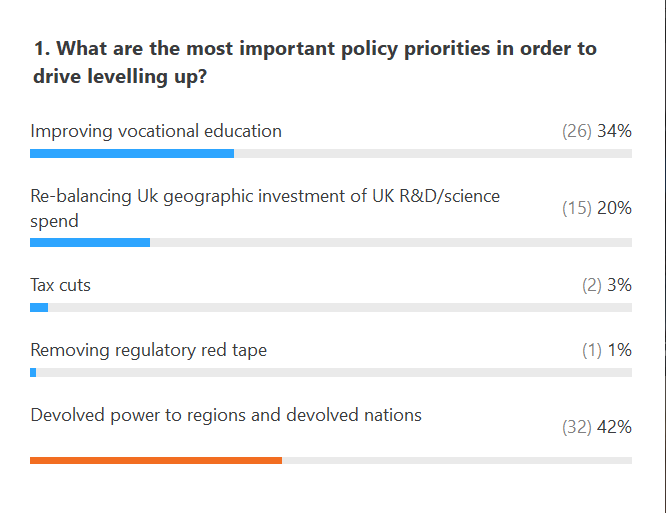 Jennifer said despite her strong views on education, she voted for devolved power to regions and nations.
"When I think about education, I think we do need to do something different in the North West than in other parts of the country," she said.
"It doesn't need to be the same. It can be customised for your region based on needs and if you had devolved power then you could make some decisions around that to get the best for the region which would therefore benefit the nation as a whole."
You can watch the full panel discussion here: